When the moon hits your eye...
Well tonight was all about the comfort of pizza. But we decided to mix it up a bit with BBQ Chicken Pizza. I have made it before and my secret to making this good is the smoked Gouda. If you have never tried this variety of cheese, give it a whirl, its wonderful.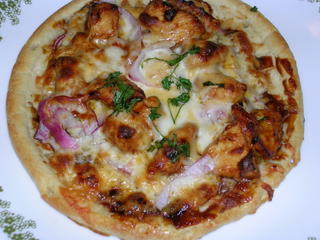 I bought individual pizza crusts (to save time and because I have still not become brave enough to make my own dough) and so we each got our own little treat. This is such a great treat, and so easy I don't even miss not being at a pizza joint.
Tomorrow is bar food fun, so we'll see how that turns out. Till then...